The 2014 Winter Paralympics, officially known as the XI Paralympic Winter Games, will be held from March 7 to March 16, 2014 in Sochi, Russia. This will be the first time Russia has hosted the Paralympics and will be the début of Para-snowboarding at the Winter Paralympics.
Ray of Light and Snowflake ("Luchik" and "Snezhinka")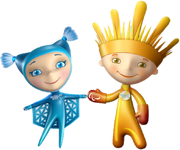 A shortlist of 10 Olympic and 3 Paralympic designs were shown to the public on February 7, 2011, while the winners were revealed on February 26, 2011. The winners were Ray of Light and Snowflake, and this was the third time (after Vancouver) that both Olympic and Paralympic mascots were unveiled at the same time.
The Fire Boy and the Snow Girl come from different planets: the Fire Boy comes from a planet where it's always hot, while the Snow girl came to earth on an icy comet. She looks like a snowflake, while he has hair that looks like fire.
The sports scheduled to be competed in Sochi include:
Alpine skiing
Biathlon
Cross-country skiing
Ice sledge hockey
Wheelchair curling
Ad blocker interference detected!
Wikia is a free-to-use site that makes money from advertising. We have a modified experience for viewers using ad blockers

Wikia is not accessible if you've made further modifications. Remove the custom ad blocker rule(s) and the page will load as expected.