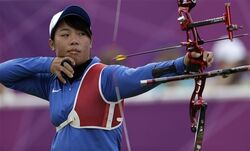 Archery is the Sport, practice or skill of propelling arrows with the use of a bow. Historically, archery has been used for combat, while in modern times, its main use is that of a recreational activity. A person who participates in archery is typically known as an "archer" or "bowman", and one who is fond of or an expert at archery can be referred to as a "toxophilite".
Ad blocker interference detected!
Wikia is a free-to-use site that makes money from advertising. We have a modified experience for viewers using ad blockers

Wikia is not accessible if you've made further modifications. Remove the custom ad blocker rule(s) and the page will load as expected.