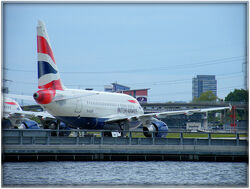 Whether you plan to attend an upcoming Olympic Games and need to research and plan a trip, you have information to share with travelers, or you just want to browse and learn more, we created the Olympic Travel category just for you!
This category will house all travel related articles including transportation, lodging and accommodations, places to eat, things to do, etc. It will also include subcategories for specific games. For example, the London 2012 Travel subcategory will be included. It is recommended that future games also have a category travel that is a subcategory of Olympic Travel.
Since this is a new category and feature for this wiki, we invite you to help out a fellow traveler by editing or adding to this category! Help us out and share what you know about transportation in and to London, hotels and other places to stay in London, London Olympic venue information, good places to eat, sights to see, and other relevant travel-related articles.
This category currently contains no pages or media.