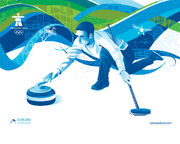 Curling was one of the events that took place at the 2010 Winter Olympics.
Men's Results
Edit
The Men's Curling ended with Canada and Norway going for gold, with Sweden and Switzerland going for Bronze.
Final Scores were Canada 6 Norway 3. Sweden 4 Switzerland 5.
Women's Results
Edit
The women ended with Canada facing Sweden and China facing Switzerland
Final Scores were Canada 6 Sweden 7. China 12 Switzerland 6.
Image Gallery
Edit
Ad blocker interference detected!
Wikia is a free-to-use site that makes money from advertising. We have a modified experience for viewers using ad blockers

Wikia is not accessible if you've made further modifications. Remove the custom ad blocker rule(s) and the page will load as expected.