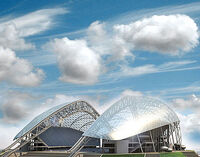 The Fisht Olympic Stadium is built in the new Sochi Olympic Park. It is named after Mount Fisht. It is located within walking distance of the Olympic Village and the capacity of the stadium will be 40,000. The Olympic Stadium, designed like a shell to recall the glories of Fabergé art, will provide a seaside setting for the Opening and Closing Ceremonies of the 2014 Winter Olympics and Paralympics.
The stadium walls and roof is one continuous glass surface designed to reflect sunlight off the sea during the day. The bowl opens to the north, allowing for a direct view of the Krasnaya Polyana Mountains, and the upper deck is open to the south, allowing for a view of the Black Sea. The stadium is designed by global leaders of sports architecture Populous and UK design consultancy Buro Happold. The final design was unveiled in September 2009.
It cost $603.5 million to build the stadium, opened in 2013. After the Games, the stadium complex will serve as a training centre and match venue for the Russian Football National Team, and one of the venues of the FIFA 2018 World Cup.
In October 2013, the Central Bank of Russia issued a commemorative 100 rouble note, a hundred days before the start of the winter Olympic Games in Sochi. The blue tinted banknote depicts a flying snowboarder on one side, and on the other the Fisht Olympic Stadium and a firebird.
Olympic events
Edit
Opening & Closing ceremony
External links
Edit