Followed pages are a way to keep up to date on pages you care about on Wikia.
Step-By-Step

You can choose to "Follow" a page by simply clicking on the Follow text on the toolbar at the bottom of your page. When you have followed the page successfully, the text will change to "Following."
You will then receive an e-mail notification each time a change is made to that page.
In some situations, you may automatically begin following pages, such as after you leave a talk page message for someone. You can manage your preferences for automatically following pages in your user preferences.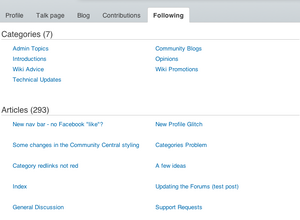 To unfollow a page, simply click the "Following" link in the toolbar at the bottom of the page. This is the same location as the link you clicked to follow the page originally.
You may be displaying a "Pages I'm Following" box on your user page to show others what pages you are interested in on the wiki. This only includes article pages. If you prefer not to display your followed pages, you can disable this in your user preferences.
See also
Special:Watchlist, which lists your followed pages according to the date they were last edited.
Read More
Further help and feedback