جمهوری اسلامی ایران
Jomhuri-ye Eslāmi-ye Irān
(Islamic Republic of Iran)


National Flag

Location on Map
IOC Code
IRI
Years Hosted Olympics
none
Years Attended Olympics
Summer: 1900, 1948-76, 1988-2016
Winter: 1956, 1964-76, 1998-2014
Medals 2012 Summer
4 gold, 5 silver, 3 bronze
Medals 2014 Winter
none
Total Olympic Medals
Gold
Silver
Bronze
15
20
25
National Olympic Committee
National Olympic Committee of the Islamic Republic of Iran
Iran first participated at the Olympic Games in 1948, and has sent athletes to compete in every Summer Olympic Gamessince then, except for 1980 and 1984. Iran has also participated in the Winter Olympic Games on several occasions since 1956.
Some sources consider Freydoun Malkom, a fencer who competed in the épée event in the 1900 Summer Olympics, of Persian nationality, and therefore, Iran's first Olympic competitor.
Iranian athletes have won a total of 60 medals, all in wrestling, weightlifting, taekwondo, and athletics.
The National Olympic Committee for Iran is the National Olympic Committee of the Islamic Republic of Iran, and was founded in 1947.
Medal tables
Edit
See also: All-time Olympic Games medal count
Medals by Summer Games
Edit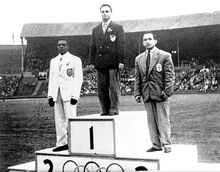 Medals by Winter Games
Edit
Medals by sport
Edit
List of medalists
Edit
Sport by year
Edit
Summer Olympics
Edit
Winter Olympics
Edit
References
Edit
Ad blocker interference detected!
Wikia is a free-to-use site that makes money from advertising. We have a modified experience for viewers using ad blockers

Wikia is not accessible if you've made further modifications. Remove the custom ad blocker rule(s) and the page will load as expected.