Kyla Ross


Country
USA
Sport
Gymnastics
Best Events
Uneven Bars
Olympics Attended
2012
Olympic Medals Won
Gold
Silver
Bronze
1
0
0
Personal Information
Nickname
Birthdate
24 October 1996
Birthplace
Height
5' 2" 1.57 meters
Weight
Hometown
Aliso Viejo, California, USA
Kyla Briana Ross
was born on October 24, 1996 in Honolulu, Hawaii, to Jason and Kiana Ross. Her father is of black and Japanese ancestry, and her mother is of Filipino and Puerto Rican descent. She has two younger siblings, and she attends Aliso Niguel High School in Aliso Viejo, California.
On July 1, 2012, Ross was selected to represent the USA on the Women Gymnastics Olympic team. Ross is the youngest of the five team members and the Olympics will be her first major international competition. During the team competition she contributed scores of 15.133 in the balance beam and 14.933 on the uneven bars. Ross and her teammates won the team gold medal on July 31, 2012.
Ross retired from competive gymnastics in early 2015.  Ross plans to competed for the UCLA Bruins in 2017.
Major Results
Edit
Summer Olympics
National Championships
2012 Uneven Bars - 2nd
2013 All-Around - 2nd
2013 Balance Beam - 1st
2013 Uneven Bars - 1st
2013 Floor - 7th
2014 All-Around - 2nd
2014 Uneven Bars - 1st
2014 Balance Beam - 6th
2014 Floor - 5th
2015 All-Around - 10th
2015 Uneven Bars - 3rd
2015 Balance Beam - 12th
2015 Floor - 12th
World Championships
2013 All-Around - 2nd
2013 Balance Beam - 2nd
2013 Uneven Bars - 2nd
2013 Floor - 5th
2014 Team - 1st
2014 All-Around - 3rd
2014 Uneven Bars - 6th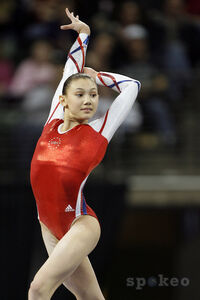 Ad blocker interference detected!
Wikia is a free-to-use site that makes money from advertising. We have a modified experience for viewers using ad blockers

Wikia is not accessible if you've made further modifications. Remove the custom ad blocker rule(s) and the page will load as expected.