Laura Ann Wilkinson (born November 17, 1977 in Texas) is a former American diver.
Background
Edit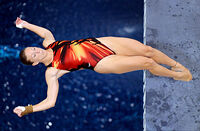 As a child, Wilkinson was a gymnast, but had to give up on the sport after a growth spurt during puberty made her too tall to continue. It was then that she turned to diving. Wilkinson is a 2001 graduate of the University of Texas, where she majored in public relations. She trains in The Woodlands, Texas and is married to Eriek Hulseman. She also travels around the country speaking to girls at The Revolve Tour, a Christian girls' conference.
One day, while swimming in the gym's pool, she witnessed a young female diver in-training execute an impressive dive, and she quickly developed an interest in the sport herself. She would then take up platform diving, where in 1995, she joined the U.S. national team.
2000 Summer Olympics
Edit
Six months prior to the 2000 Summer Olympics, Wilkinson suffered a serious foot injury that kept her out of action for a couple of months. During this time, she used mental images to visualize her dives. Her foot was not fully recovered by the time she started diving again, but she was able to qualify for the Olympics. At the 2000 Summer Olympics, Wilkinson, who was still in pain from her foot injury, was in eighth place after the first of five dives in the platform diving finals. However, she earned her the first gold medal for a female American platform diver since 1964.
2004 Summer Olympics
Edit
Wilkinson finished in fifth place at the 2004 Summer Olympics. However, she had already had an impact on her competitors. Several of them repeated the technique she used at the 2000 Olympics by starting their dives with a handstand.
2008 Summer Olympics
Edit
On June 26, 2008, Wilkinson qualified as a member of the 2008 U.S. Olympic team in diving, taking first place in the Olympic trial. This Olympics would be her final competitive dives, as she had previously announced her retirement after these events.
External links
Edit