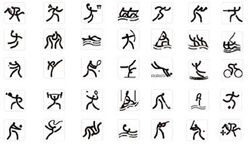 A total of 26 sports will be played at the 2012 Olympics. Some sports will have several disciplines, such as aquatics which includes Diving, Swimming, Synchronized Swimming, and Water Polo; or, Athletics which includes track, field, road, anc combined. Olympic competition events are held in each sport category to determine the medal winners. Some sports have medals for just men and women (triathlon), whereas, most sports have several different events such as aquatics which as 46 total events (for a total of 138 gold, silver and bronze medals awarded) for men and women. There will be a total of 302 Gold Medals awarded at the 2012 Games.
List of sports
Edit
Ad blocker interference detected!
Wikia is a free-to-use site that makes money from advertising. We have a modified experience for viewers using ad blockers

Wikia is not accessible if you've made further modifications. Remove the custom ad blocker rule(s) and the page will load as expected.