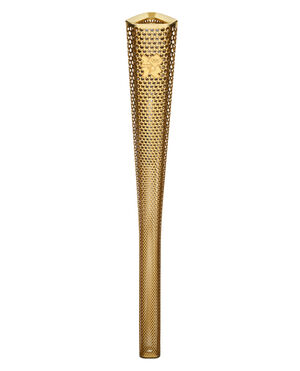 The
London 2012
torch has a simple design: 8,000 tiny holes to represent the 8,000 people who will carry it during the
Torch Relay
. For more information, including a video about the torch's conception, visit the official London 2012
torch page
.
Designers
Edit
East Londonders Edward Barber and Jay Osgerby won the opportunity to design the torch through a competition run by LOCOG and the Design Council. The two designers worked with product engineers Tecosim from Basildon and Premier Sheet Metal from Coventry. Mass production of the torch begins at the end of 2011
8,000 tiny holes represent the 8,000 torchbearers.
A triangular shape represents the following series of threes:
-The three Olympic values of respect, excellence and friendship;
-The three words that make the Olympic motto – faster, higher, stronger;
-The fact that the UK has hosted the Olympic Games in 1908, 1948 and will host them in 2012
-The vision for the 2012 Olympic Games to combine three bodies of work – sport, education and culture.
Gold in color to represent brightness and warmth of the Olympic flame.
Photo Gallery
Edit
Ad blocker interference detected!
Wikia is a free-to-use site that makes money from advertising. We have a modified experience for viewers using ad blockers

Wikia is not accessible if you've made further modifications. Remove the custom ad blocker rule(s) and the page will load as expected.