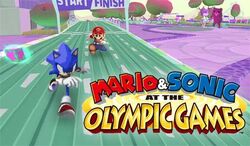 Mario & Sonic at the Olympic Games, known in Japan as Mario & Sonic at the Beijing Olympics, is a sports video game developed by the Sega for the Nintendo Wii and the Nintendo DS. The game features 24 playable evens from the Summer Olympic Games. It was officially licensed by the International Olympic Committee and was the first crossover title to feature characters from both Mario and Sonic The Hedgehog's respective series. It was released on the Wii in November 2007 and the Nintendo DS handheld in January 2008.
Reception
Edit
Overall, critics praised the multiplayer interaction of the Wii game and variety of events of both versions. However, reviewers criticized the Wii version for its lack of simplicity and its DS counterpart for not offering the same interaction between players. The Wii title was awarded the "Best Wii game of 2007" at the Games Convention in Leipzig. Mario & Sonic sold over ten million units and started a series of related sport video games to coincide with upcoming Olympic events.is a video game for the Nintendo Wii and the Nintendo DS. It feature many events from both the Summer and Winter Olympic games.
Ad blocker interference detected!
Wikia is a free-to-use site that makes money from advertising. We have a modified experience for viewers using ad blockers

Wikia is not accessible if you've made further modifications. Remove the custom ad blocker rule(s) and the page will load as expected.