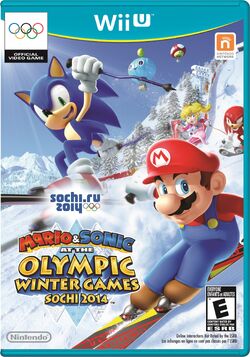 Mario & Sonic at the Olympic Winter Games Sochi 2014 is Wii U game and is the fourth installment of the Mario and Sonic at the Winter Olympic Games series. It was first announced by Satoru Iwata on Nintendo Direct on 17 May 2013, as the second out of the three titles of SEGA and Nintendo's exclusive collaboration, the first, confirmed one being Sonic Lost World. It is also the first game in the series published by Nintendo outside of Japan and South Korea rather than SEGA, who published the first three games.
It pay tributes at the past winter games. 
Ad blocker interference detected!
Wikia is a free-to-use site that makes money from advertising. We have a modified experience for viewers using ad blockers

Wikia is not accessible if you've made further modifications. Remove the custom ad blocker rule(s) and the page will load as expected.