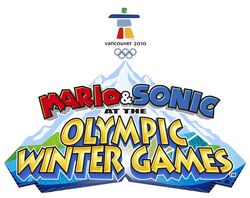 Mario & Sonic at the Winter Olympic Games is a video game based on the Vancouver 2010 Winter Olympic Games and is the sequel to Mario & Sonic at the Olympic Games.
Mario & Sonic at the Olympic Winter Games retains the gameplay mechanics of its predecessor, controlling an on-screen character through authentic Olympic events with the specific tailored controls for the Wii and DS. Unlike its predecessor, some of the events in the Wii game, such as snowboarding, can use the Balance Board accessory, but it is not a requirement.
All of the playable characters from the previous game return in addition to four new characters. A new feature added to the player's Mii is the ability to customize the Mii's clothes. The sequel introduces a Festival mode in the Wii version that lets players make their way through the entire Olympic Games, from opening ceremony to closure. The multiplayer mode offers "co-op and competitive gameplay" whereas the DS version will use its wireless capabilities. The DS counterpart has "Adventure Tours" where players can accept quests and challenge bosses and to stop Dr. Eggman and Bowser before they can stop the Olympics by kidnapping the Snow Spirits. DS Download Play is possible for those without an individual copy of the game.
Ad blocker interference detected!
Wikia is a free-to-use site that makes money from advertising. We have a modified experience for viewers using ad blockers

Wikia is not accessible if you've made further modifications. Remove the custom ad blocker rule(s) and the page will load as expected.