Melbourne 1956
Talk

0
541pages on
this wiki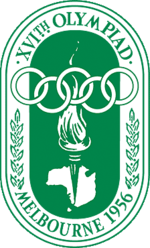 The XVI Summer Olympics took place in Melbourne, Australia. This was the first time Australia hosted the Olympics, and would not host another one until the
2000 Sydney Olympics
. Philip, the Duke of Edinburgh, offically opened the XVI games to which 72 nations competed in 145 events (17 sports) The games took place in November because of summer being different in the southern hemisphere. Although there was concern about hosting it in the southern hemisphere because northern hemisphere athletes would be used to resting during the winter.
Construction problems
Melbourne nearly lost the olympics to Rome before the games when IOC president Avery Brundage was not impressed with an inspection in April of 1955. Melbourne was way behind on construction because of financial issues and political debates, but at this point they had managed to get a A$4.5 million loan from the State of Victoria. By 1956 Melborne was clearly ready for the Olympics and the games started as planned.
Historic Events
For the first time since WWII, East and West Germany enter the games as the United Team of Germany
Because of quarantine laws, the equestrian events took place in Stockholm in june, since foreign horses are not allowed in Australia. This was the second time events took place in two different nations.
This was the first time any Olympic games was held in the southern hemisphere.
The India national field hockey team won its sixth consecutive gold. Although the next games they do not continue to which they got silver. This was the longest record of one nation consecutively winning gold at the Olympics.
Boycotts
Liechtenstein, the Netherlands, Spain, and Sweden boycott the games in protest of the Soviet invasion of Hungary. Egypt, Lebanon, and Iraq do the same as a result of the Suez crisis.
The People's Republic of China refuses to participate due to the inclusion of the Republic of China (Taiwan).
Medals
Image Gallery
See Also
Logos - A collection of logos featuring this event.
Mascots - The official mascots of this Olympics'.
Torch - Information about this Olympics' torch.