Welcome to the Olympics Wikia
The wikia about the Olympic Games that anyone can edit

Olympics Wikia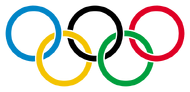 Olympics Wikia is a community of editors, athletes, sports fans, students, and others dedicated to preserving and spreading information having to do with various Olympic games throughout history. In addition to creating a comprehensive Olympics site unlike any other, we want to generate excitement about the upcoming summer and winter games and highlight feature stories and spotlight athletes. As we get closer to the next games, watch for Wikia driven contests and games, as well as timely information about the games and more.
Anyone is free to join our community! If you are new to using wikias, it's easy to get started! Vote on a Top 10 List or dive in and add photos, edit articles, or add your own page!
Featured Content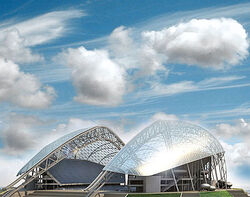 The Fisht Olympic Stadium is built in the new Sochi Olympic Park. It is named after Mount Fisht. It is located within walking distance of the Olympic Village and the capacity of the stadium will be 40,000. The Olympic Stadium, designed like a shell to recall the glories of Fabergé art, will provide a seaside setting for the Opening and Closing Ceremonies of the 2014 Winter Olympics and 2014 Winter Paralympics.
In October 2013, the Central Bank of Russia issued a commemorative 100 rouble note, a hundred days before the start of the winter Olympic Games in Sochi. The blue tinted banknote depicts a flying snowboarder on one side, and on the other the Fisht Olympic Stadium and a firebird.

Figure skating has been contested in the Olympic Games since the 1908 Summer Olympics. In 1908 and 1920, the figure skating competitions were held in conjunction with the Games of the Olympiad. Since 1924, figure skating has been a part of the Winter Olympic Games.
Skaters qualify for the Olympic Games by belonging to a Member nation of the International Skating Union. 80% of the allotted places (24 men/ladies, 19 dance couples, 16 pairs) are determined by the results of the previous year's World Figure Skating Championships.
See more about figure skating... or See Figure Skating in 2014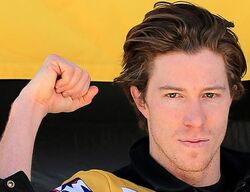 Shaun Roger White is an American professional snowboarder and skateboarder. He is a two-time Olympic gold medalist. He holds the X-Games records for gold medals and highest overall medal count, and has won 10 ESPY Awards. His most notable wins include winning the overall title of Action Sports Tour Champion, as well as being the first person to compete in and win both the Summer and Winter X Games in two different sports.
He will be competing in the 2014 Winter Olympic Games, attempting to go for gold in both the Halfpipe and Slopestyle.
Olympics Video Gallery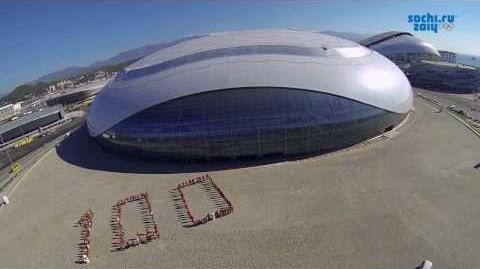 Olympics News Headlines
Loading RSS data...
Olympics Social Media
Olympics Poll

Which nation do you believe will do best in 2016?
Poll Archive
Create blog post
Sports Talk
If you create an olympic game

Give:

 # olympiad
teams
event
building

Read more >

Team (IOC code) № Summer

Total № Winter

Total № Games

Combined total

Totals 27 4809 4776 5129 14714 21 860 860 849 2…

Read more >
See more >
What's new on Olympics Wikia

We've got a new skin! Check out new bright and shiny new background theme, which was designed to match the Sochi 2014 colors. Watch for more exciting Sochi 2014 pages coming soon!
Want to help out? To write a new article, just enter the title in the box below.
Not sure where to start?