Ad blocker interference detected!
Wikia is a free-to-use site that makes money from advertising. We have a modified experience for viewers using ad blockers

Wikia is not accessible if you've made further modifications. Remove the custom ad blocker rule(s) and the page will load as expected.
Paris hosted the VIII summer Olympics. This was the second time that Paris hosted the Olympics, the first being in
1900
. Just before these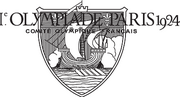 Olympics France also hosted the
1924 Winter Olympic Games
, which was the first ever winter games. France would later host the
1968 Winter Olympic Games
in Grenoble and the
1992 Winter Olympic Games
in Albertville. 44 nations competed in the Paris games in the 17 sports and 126 events.
After Chamonix and Paris Games, the IOC forbid such practices as compensating athletes for time taken away from work to compete, making it almost impossible for working-class athletes to participate.
Image Gallery
Edit