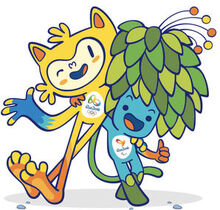 Vinicius and Tom are the official mascots of the Rio 2016 Olympic And Paralympic Games. The Olympic Mascot's name is Vinicius. He represents the fauna of Brazil. The Paralympic Mascot's name is Tom. He represents the flora of Brazil. The Mascots were Designed By Luciana Eguti and Paulo Muppet of São Paulo-based design and animation team, Birdo Produções. According to an animation of their origin story by Design and Animation team, Birdo Produções, they were born when an explosion of Brazillian joy lit up the sky when Rio was chosen to host the Games in 2016 back on October 2, 2009 at the 121st IOC Session In Copenhagen, Denmark. when Jacques Rogge They are best friends.
Ad blocker interference detected!
Wikia is a free-to-use site that makes money from advertising. We have a modified experience for viewers using ad blockers

Wikia is not accessible if you've made further modifications. Remove the custom ad blocker rule(s) and the page will load as expected.