RioCentro is an exhibition and convention center located in Rio de Janeiro, Brazil. It is the largest exhibition center in Latin America and was built in 1977.
At the Games
Edit
When they win the 2016 olympic bid.four of its six pavilions were proposed as venues. Pavilion 2 will host Olympic boxing, Pavilion 3 will host Olympic and Paralympic table tennis, Pavilion 4 will host badminton, and Pavilion 6 will host Olympic weightlifting and Paralympic powerlifting events. During the 2014 FIFA World Cup, Riocentro was utilised as the headquarters of the International Broadcast Centre (IBC).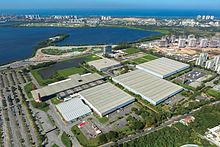 Ad blocker interference detected!
Wikia is a free-to-use site that makes money from advertising. We have a modified experience for viewers using ad blockers

Wikia is not accessible if you've made further modifications. Remove the custom ad blocker rule(s) and the page will load as expected.