Rome was the host for the XVI summer olympic games. This was the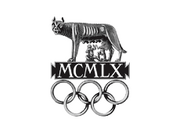 second time Italy hosted the Olympics but the first time they had hosted the summer olympics. The first being the
1956 Winter Olympic Games
in Cortina d'Ampezzo. Italy would later host the
2006 Winter Olympic Games
in Torino
Rome had a rather strange logo for their Olympics. It depicts a female roman wolf, nursing the two young two brothers Remus and Romulus, who were said to have founded the city of Rome. Underneath them is '1960' spelled out in roman numerals.
Historic Moments
Edit
British West Indies, Republic of China, Ethiopia, Ghana, Iraq, Morocco, and Singapore make their olympic debuts.
The Rome Olympics were the first games shown on television.
Image Gallery
Edit
Logos - A collection of logos featuring this event.
Mascots - The official mascots of this Olympics'.
Torch - Information about this Olympics' torch.
Ad blocker interference detected!
Wikia is a free-to-use site that makes money from advertising. We have a modified experience for viewers using ad blockers

Wikia is not accessible if you've made further modifications. Remove the custom ad blocker rule(s) and the page will load as expected.