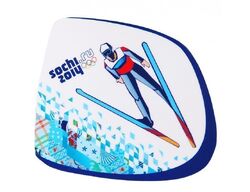 Ski jumping is a sport in which skiers go down a take-off ramp, jump and attempt to land as far as possible down the hill below. In addition to the length of the jump, judges give points for style. The skis used for ski jumping are wide and long (260 to 275 centimetres (102 to 108 in)). Ski jumping is predominantly a winter sport, performed on snow, and is part of the Winter Olympic Games, but can also be performed in summer on artificial surfaces – porcelain or frost rail track on the inrun, plastic on the landing hill. Ski jumping belongs to the nordic type of competitive skiing.
Ski jumping has been part of the Olympic Winter Games since the first Games in Chamonix Mont-Blanc in 1924. The Large Hill competition was included on the Olympic programme for the 1964 Olympic Games in Innsbruck. Women's ski jumping was included in the Olympic Winter Games only in 2014.
Individual Olympic competition consists of a training jump and two scored jumps. The team event consists of four members of the same nation, who each jump twice.
In Sochi 2014, four competitions were held:
Ad blocker interference detected!
Wikia is a free-to-use site that makes money from advertising. We have a modified experience for viewers using ad blockers

Wikia is not accessible if you've made further modifications. Remove the custom ad blocker rule(s) and the page will load as expected.