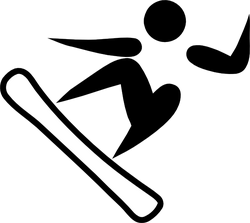 Snowboarding is a winter sport that involves descending a slope that is covered with snow while standing on a board attached to a rider's feet, using a special boot set into a mounted binding. The development of snowboarding was inspired by skateboarding, sledding, surfing and skiing. It was developed in the United States in the 1960s and became a Winter Olympic Sport in 1998.
Snowboarding's growing popularity is reflected in its recognition as an official sport: in 1985, the first World Cup was held in Zürs, Austria. The International Snowboard Federation (ISF) was founded in 1990 to provide universal contest regulations. In addition, the United States of America Snowboard Association (USASA) provides instructing guidelines and runs snowboard competitions in the U.S. today, high-profile snowboarding events like the Winter X Games, Air & Style, US Open, Olympic Games and other events are broadcast worldwide. Many alpine resorts have terrain parks.
Slopestyle
Nordic
Halfpipe
Slalom
Cross
Ad blocker interference detected!
Wikia is a free-to-use site that makes money from advertising. We have a modified experience for viewers using ad blockers

Wikia is not accessible if you've made further modifications. Remove the custom ad blocker rule(s) and the page will load as expected.