Sochi 2014 Mascots
were revealed in a National Final On Channel One (Russia) on 26 February 2011.

Who Are They?
Edit
The white bunny hare is confirmed to be a female.
Other Canidates before The Final
Edit
MASCOTS ON FEBRUARY 26, 2011 ON CHANNEL ONE RUSSIA
The Brown Bear
The Sun
The Dolphin
The Bullfinch
The Matryoshka Dolls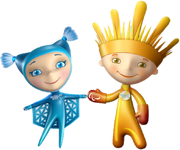 Ad blocker interference detected!
Wikia is a free-to-use site that makes money from advertising. We have a modified experience for viewers using ad blockers

Wikia is not accessible if you've made further modifications. Remove the custom ad blocker rule(s) and the page will load as expected.