Thomas Bach (born on 29 December 1953 in Würzburg) is a German lawyer and former fencer. He is the ninth and current president of the International Olympic Committee and member of the DOSB executive board.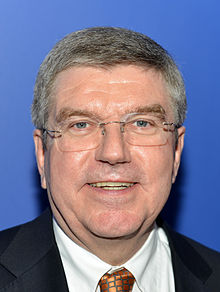 He is  a former fencer of the Fencing-Club Tauberbischofsheim. He competed at the 1976 Summer Olympics in Montreal and won a gold medal in the team foil event, representing West Germany. A year later he was crowned world champion at the World Championship in Buenos Aires.
Ad blocker interference detected!
Wikia is a free-to-use site that makes money from advertising. We have a modified experience for viewers using ad blockers

Wikia is not accessible if you've made further modifications. Remove the custom ad blocker rule(s) and the page will load as expected.