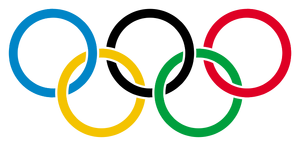 My Olympics
Edit
Write about what got you interested in the Olympics, why you love the Olympics, and any opinions you have about the Olympics. Then add your favorites below, and don't forget to link to the correlating pages!
Olympic Favorites:
Edit
Team: USA!!!!!
Olympic Moment: When Michael Phelps won his last gold medal.
Summer Games: Gymnastics, Swimming, Archery, Diving, Rythmic Gymnastics, Men's Water Polo
Winter Games: Curling, Figure Skating, Slalom Skiing
Summer Events: Opening Ceremonies, Closing Ceremonies, Medal Rounds
Winter Events: Same as Summer!!!!
Summer Athletes: The Feirce Five, Michael Phelps, Missy Franklin, Rebecca Soni
Winter Athletes: :Lindsay Vonn, Michelle Kwan, Kristi Yamaguci, Apollo Anto-Ono
Olympic Mascot: 2012
Olympic Venue: London, Beiijing, Vancouver, ALL OF THEM!!!!