Hi, my name is Porterfield.
Check out some of my favorite wikis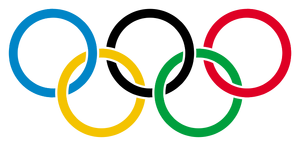 My Olympics
Edit
I've watched every Olympics, both summer and winter, since Atlanta 1996. Two of my favorite things in life are skiing and ice hockey, so I prefer the winter games, but only by a small margin. In 2006, I was lucky enough to visit Torino for the Olympics, where I saw Freestyle Skiing at Sauze D'Oulx and the 3-3 tie between USA and Latvia in Men's Hockey. Hopefully, my second time going to the Olympics will be in London in 2012!
Olympic Favorites:
Edit
Team: USA because I'm American, but I also support Switzerland because that is where I went to school.
Olympic Moment: USA winning ice hockey gold in 1980, even though I wasn't alive yet!
Summer Games: Beijing 2008. I was traveling throughout the games, and I could only watch the events at bars, all of which were overrun by Australians (they are everywhere!). They talked a lot of smack about swimming, but luckily for me, Michael Phelps was absolutely dominant. I had the last laugh every night.
Winter Games: Torino 2006, but only because I attended. As a television viewer, I really enjoyed the Vancouver games. The hockey tournament in 2010 was one of the best sports tournaments of all time!
Winter Events: Ice Hockey. Alpine Skiing. Freestyle Skiing. Curling. Short track speed skating.
Summer Athletes: Jesse Owens. Muhammad Ali. Michael Johnson. Michael Phelps. Brian McBride.
Olympic Venue: Beijing National Aquatics Center. It's an indoor waterpark now!