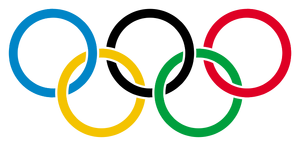 My Olympics Edit
Write about what got you interested in the Olympics, why you love the Olympics, and any opinions you have about the Olympics. Then add your favorites below, and don't forget to link to the correlating pages!
Olympic Favorites:Edit
Team:
Olympic Moment:
Summer Games:
Winter Games:
Summer Events: Beach volleyball.
Winter Events: The downhill. Nothing like it for sheer adrenaline.
Summer Athletes:
Winter Athletes:
Olympic Mascot:
Olympic Venue: Stanford Stadium, which is (unfortunately) the only Olympic venue that I've ever attended for an event.