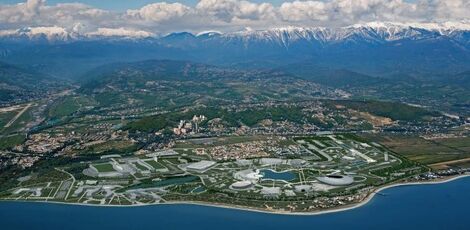 Sochi is a city in Russia that will host the 2014 Winter Olympic Games. Russia happens to be a very fashion-conscious country, so today we will talk about some of Sochi's street fashion and what you can wear to look your best at the upcoming Olympic games.

1. Black Fur
If you are going to Russia, the number one staple that you need to pack is something fur- a fur coat, fur shrug, or even a fur hat. We are loving this Russian girl's long black fur coat (in addition to her fun patterned pants).
2. Metallic Accents
One trend that we have spotted amongst the Russian women is metallic accents. Add a metallic belt, hair pin, or even metallic shoes to your outfit for a little extra something. This is an inexpensive way to make a plain outfit step it up a notch.
3. Over the Knee Skirt
Over the knee is no longer a conversative, plain-jane look. It is the latest in the fashion world so keep your eye out for more a-line and tight over the knee skirts. Match the skirt with a sweater or a simple top and voila- a 1-2-3 outfit!
---
---
Ad blocker interference detected!
Wikia is a free-to-use site that makes money from advertising. We have a modified experience for viewers using ad blockers

Wikia is not accessible if you've made further modifications. Remove the custom ad blocker rule(s) and the page will load as expected.