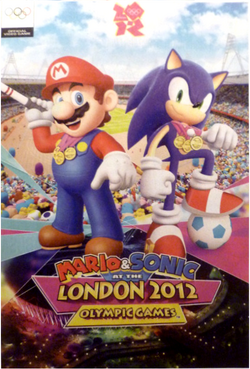 IGN previews the upcoming video game Mario & Sonic at the London 2012 Olympic Games for the Nintendo Wii and Nintendo 3DS, where two of the most famous gaming icons compete for the gold medals in a variety of sport disciplines. The game is published by Nintendo in Japan and by Sega in North America and Europe, and is officially licensed by the International Olympic Committee (IOC).
The gameplay will be very similar to the previous Mario & Sonic game made for the Beijing Olympics. Like its predecessor, it will feature many fan favorite characters from both series, including Sonic and Mario themselves, as well as Luigi, Wario, Dr. Eggman, Silver the Hedgehog and Donkey Kong, this time with some famous London landmarks, like Big Ben, in the background. Horse races are right beneath the Greenwich Observatory, and you'll be able to play badminton in the Wembley Arena.
The new events in this game are badminton, canoeing, football and horse-riding. Here's what IGN thinks about these additions:
There are just four new events: horse-riding, canoeing, football and badminton. The equestrian event (horse-riding to you and me) is played extremely straight and could have been pulled straight from Pippa Funnell; characters have to make their way atop a pony around a obstacle-riddled course in the shortest time possible. Canoeing is a two-player co-op game, which is all about your team's rhythm - paddle together and you'll zoom ahead. Badminton feels like a very light version of Mario Tennis or Virtua Tennis, with automatically-moving players wafting their rackets at the shuttlecock. If a player messes up their shot the opponent has a chance to do a special smash move, which is normally unstoppable. We didn't get to see the football, sadly.
Some of the returning ones have also been improved:
However, merely because the older events have returned, that doesn't mean they haven't changed. In particular, SEGA has again re-imagined a few competitions as Dream Events - so the long jump has changed into a sideways scrolling Mario party game (very much like Yoshi's Island) where players must survive for as long as possible on a level with collapsing clouds, giant Bullet Bills and each other to compete with. Similarly, the Dream discus is a Sonic Adventure tribute that consists of players riding their discuses in aerial arenas and knocking each other out of the way to get rings, which determine the winner.
If you're excited about the upcoming Olympics and sports video games, read more at the Mario Wiki and Sonic Wiki!
Ad blocker interference detected!
Wikia is a free-to-use site that makes money from advertising. We have a modified experience for viewers using ad blockers

Wikia is not accessible if you've made further modifications. Remove the custom ad blocker rule(s) and the page will load as expected.