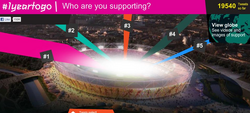 The official London 2012 Olympics website now wants its viewers to compete in a brand new sport discipline. It's a contest in which the country with the most Twitter, YouTube and Flickr followers wins. So far, there have been over 20,000 tweets, with the United Kingdom in the lead, followed by Brazil, the U.S., Canada and the Netherlands.
To enter the contest, you need to tweet the hashtag #1YearToGo (as the Olympics begin on July 27, 2012) and your country's three-letter code. What country are you supporting?
Source: Mashable
Ad blocker interference detected!
Wikia is a free-to-use site that makes money from advertising. We have a modified experience for viewers using ad blockers

Wikia is not accessible if you've made further modifications. Remove the custom ad blocker rule(s) and the page will load as expected.