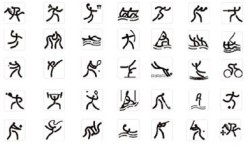 With all the ticketing headaches of last week, we thought it time for a little time-out from news.
So here's a multiple choice question to recharge your passion for the 2012 Olympics you may or may not have gotten tickets to yet. There will be a total of 26 different sports at the 2012 Summer Olympics. Which sport below is NOT one of the 26?
A) Gymnastics
B) Football
C) Cycling
D) Handball
E) Rollerskating
Ad blocker interference detected!
Wikia is a free-to-use site that makes money from advertising. We have a modified experience for viewers using ad blockers

Wikia is not accessible if you've made further modifications. Remove the custom ad blocker rule(s) and the page will load as expected.