Comments

0
2012 Olympic Security Will Not Fully Screen the ID's of All Ticket Holders: LOCOG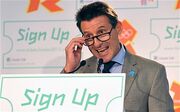 The plot of the 2012 Summer Olympic ticket
controversy
thickened today.
The London Organization Committee for the Olympic Games has announced that it will not be screening the identity of all patrons who buy tickets during the London 2012 Summer Games, citing it as impractical.
In its place, each ticket will be scanned and every patron will be required to go through a metal detector.
The announcement has been met with some concern, as critics feel that such a security change could open up the potential for black-market ticket sales.
Tell us what you think of this latest plot twist- do you see this as a good thing or a potential problem?
Source: The Telegraph