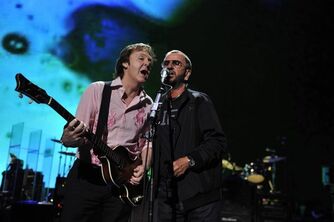 Months ago, rumors circulated about a musical super group that might headline the Danny Boyle-directed
London 2012
Opening Ceremony
. The potential all-star band was rumored to include the two remaining Beatles, Mick Jagger, and Johnny Rotten. At this point, the formation of "The Rolling Sex Beatles" is still all speculation, but Paul McCartney just confirmed his appearance at the
Olympic Stadium
for the Opening Ceremony.
When asked about the subject in June, McCartney said he would love to perform, but had not yet been approached by organizers. This time around he told Access Hollywood, "I hear there's a rumour that I might be involved. I've not actually heard anything [specific] about it yet ... but they are now planning the music." [1] Things are looking good for Beatles fans, as The Sun also reports that Danny Boyle and the organizers have expressed a strong desire for a performance by Paul, Ringo Starr, and even the offspring of George Harrison and John Lennon, all together now!
Coldplay, the Spice Girls, and Girls Aloud are the other groups rumored to perform at the Opening Ceremony, but let's get real, if you're attempting to show off the best that Britain has to offer, nothing even compares to the mighty Beatles. It would be more appropriate to spin an old Beatles record on a crummy sound system than hand over the stage to the Spice Girls. Beckham's appearance at the handover ceremony in Beijing made sense, but his wife and her girls performing would be an abomination.
Ad blocker interference detected!
Wikia is a free-to-use site that makes money from advertising. We have a modified experience for viewers using ad blockers

Wikia is not accessible if you've made further modifications. Remove the custom ad blocker rule(s) and the page will load as expected.