In the past few months, the Olympics Wiki has been following the ongoing development, or lack thereof, of a Football team that will represent Great Britain at the 2012 Summer Olympics. Neal Vaughan wrote a great blog post about the situation, to which I refer for a bit of context. There is also a section of the Football 2012 page devoted entirely to the "Team Great Britain Controversy", which includes a poll for those of you who want to have your say (although I strongly encourage commenting below as well). Finally, if you desire a list of pros and cons on the matter, check out this debate. Having said all that, this week was a defining moment for the entire saga in the oddest way possible.
As you may have gathered from the aforementioned links, England's Football Association and the British Olympic Association are in favor of a unified G.B. team. This would mean that G.B. could select top players from England, Scotland, Wales, and Northern Ireland. However, the football associations of the latter three countries have been vehemently opposed to this "dream team" format from the beginning, fearing a dilution of their nation's programs. Their stance was made quite clear a couple months ago, the BOA conceded, and it appeared that the team would be comprised of English players only.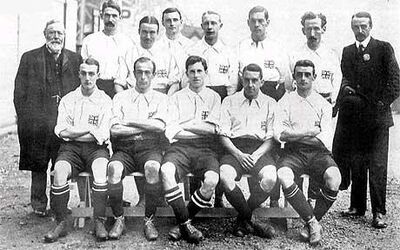 Naturally, we were caught off guard this morning when the BOA made an announcement that players from all four home nations will be eligible for the squad. Scotland, Wales, and N. Ireland responded with a joint statement reiterating their unwavering stance, but as far as the English FA and the BOA are concerned, there will be a unified team. These strange happenings leave me wondering:
Nobody's stance has changed whatsoever, so why make a false announcement?
If the BOA is allowing all players a fair shot, but their football association's are opposed, will there be a rift between players and their associations?
Why do politics and tribalism always find a way to obstruct the beautiful game?

In my opinion, the English FA and the BOA are trying to stir the pot, getting this controversy into more headlines across the U.K. so that Scots, Welsh, and N. Irish might reconsider their point of view. They are making it clear that players from those countries will be allowed to play despite what their football associations say, perhaps in the hopes that a player like Gareth Bale might go over the heads of his own association (Wales) for the chance to win Gold. What do you think?
Ad blocker interference detected!
Wikia is a free-to-use site that makes money from advertising. We have a modified experience for viewers using ad blockers

Wikia is not accessible if you've made further modifications. Remove the custom ad blocker rule(s) and the page will load as expected.