The logo for the London Olympics has been under fire since its inception in 2007, mostly because a lot of people simply don't like the design. It's been called "ugly", "rubbish", and "too 1980's", but until now, it has never been called Zionist. Earlier this week, the secretary-general of Iran's Olympic Committee sent a letter to the IOC threatening to boycott the 2012 Olympics because, according to the Iranians, the official logo for the event spells out the word Zion.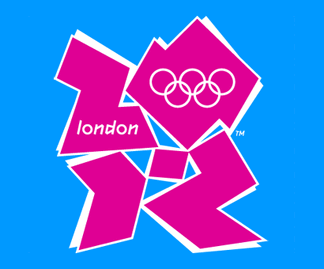 For those of you who don't know, Zion is a term that refers to Jerusalem, and more generally, the promised land for the Jewish people. If this logo did spell Zion, it would not only be offensive to some cultures and the spirit of the Olympics, but completely irrelevant to athletics. But of course, it doesn't say Zion. The IOC responded predictably, "The London 2012 logo represents the figure 2012, nothing else." I have my own opinions on the aesthetic appeal of this logo, which I will not divulge, but I will tell you that I find the state of Iran and their aforementioned Olympic Committee to be absolute jokes of organizations. Politics aside, how can you threaten to boycott the Olympics when even the most die-hard fans of the games are incapable of naming even one of your nation's athletes, let alone the particular events in which your nation is known to excel?
I was going to put my foot in my mouth when I researched further and discovered that Iran has won 48 medals in their Olympic participation. Alas, my foot remained firmly on the ground, because I noticed that all 48 of their medals were won only by men, competing in only three events: wrestling, Taekwondo, and weightlifting. Okay, Iran, we get it. You hate Jews and your men-folk are really good at combat and lifting heavy things. But guess what? Nobody will care if your team is absent from the games. Some may actually rejoice, but nobody will be upset except your poor citizens. You are doing the Iranian athletes and their fans a terrible disservice, jeopardizing their success and good times just because your lunatic government officials think that London's finest graphic designers are secretly Mossad agents. Furthermore, I'd like to point out that you're Olympic Committee also has a logo, and it looks like a nasty splotch of toothpaste! I find that offensive, so I am boycotting YOU, Iran.
What do you guys think of all this logo riffraff? Comment below please!
Ad blocker interference detected!
Wikia is a free-to-use site that makes money from advertising. We have a modified experience for viewers using ad blockers

Wikia is not accessible if you've made further modifications. Remove the custom ad blocker rule(s) and the page will load as expected.