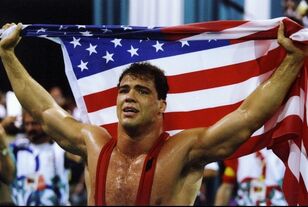 Kurt Angle
, the former WWE professional wrestler, has recently announced his plans to qualify for the U.S. Olympic
Wrestling
team that will be competing at
London 2012
. Of course, Angle originally got his start on the Olympic mats, winning gold at the
1996 Olympics
in Atlanta, before taking his talents to the professional wrestling scene. He had a broken neck when he won that medal, so if there's a man tough enough to do a repeat 16 years later at the age of 43, that man is Kurt "The American Hero/The Wrestling Machine" Angle.
ZOO conducted a great interview with the wrestler, revealing that he's coming back to the sport because of his "competitive streak" and because "the challenge of the Olympics" is something that he missed. Angle should be able to make the team, considering his experience, but how he fares depends on how well we can handle the younger generation of wrestlers. The transition from Olympic wrestling to professional wrestling seems like a natural move, but the two sports are like apples and oranges, and a reverse transition may prove to be difficult. If Kurt Angle can pull it off again, here's hoping that they give him a microphone on the Olympic podium. Now that would steal the show!
For more information about Kurt Angle, please read his profile on the Pro Wrestling Wiki. Also, we are giving away an official London 2012 Hoodie! Click here for more details!
Video
Ad blocker interference detected!
Wikia is a free-to-use site that makes money from advertising. We have a modified experience for viewers using ad blockers

Wikia is not accessible if you've made further modifications. Remove the custom ad blocker rule(s) and the page will load as expected.