Earth Day is on April 22nd, and this year's goal is for everyone to pledge an
act of green
.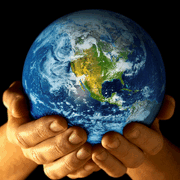 Examples of such acts can be found on the
Earth Day website
, where individuals and organizations are being encouraged to make these pledges, so that together we may reach one billion
acts of green
before the
2012 Earth Summit
in Rio de Janeiro, Brazil.
A notable element of this campaign for us here at the Olympics Wiki is the support Earth Day is getting from the world's finest athletes. Many Olympians are getting in on the action as part of the Athletes for Earth network. American representatives include the gold medal-winning, backstroke-master Aaron Peirsol, gold medalist skier Billy Demong, and World Champion freeskier Alison Gannett.
The short video below features 12 Olympians and future-Olympians who are making their pledges to being green. If they can find time in their busy training schedules to grow a garden and recycle, surely you can too!
Ad blocker interference detected!
Wikia is a free-to-use site that makes money from advertising. We have a modified experience for viewers using ad blockers

Wikia is not accessible if you've made further modifications. Remove the custom ad blocker rule(s) and the page will load as expected.