As you may know, our Wiki is not only destined to become the ultimate site for Olympic history, news, and athlete bios, but also the best resource for fans who are traveling to the games.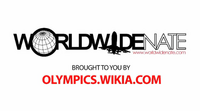 As we round-up information and ramp-up excitement for
London 2012
, we thought we should provide you with a fresh perspective on the host city. For the scoop on London, we sent travel expert
World Wide Nate
to do some first-hand research that is both entertaining and informational. The result is the first series of
Olympics Wiki Presents
; 10 videos about what to do, see, eat, drink, and buy in London, as well as interviews about the 2012 games with people on the street, hopeful athletes, and even the CEO of the Olympic planning committee! We will release a new video every Tuesday and everyone is encouraged to participate in the discourse relating to each one.
We always like to kick things off with a party, so without further ado, here is the first video: London Nightlife
World Wide Nate hit up the club in West London, but if you've ever been to London, we need your help to bring the party to the London Nightlife page. And if you know any Londoners, send them here! Everyone can contribute to the page in the following ways:
Post your favorite London bar, pub, or club to the Nightlife Directory
Vote for your favorite hotspots in the Top 10 Lists
Add a photo to the Nightlife Gallery
Add your "two cents" on partying in London in the comment section at the bottom

Tune in next week to see an interview with Olympic hopeful Tyrone Swaray!
Ad blocker interference detected!
Wikia is a free-to-use site that makes money from advertising. We have a modified experience for viewers using ad blockers

Wikia is not accessible if you've made further modifications. Remove the custom ad blocker rule(s) and the page will load as expected.