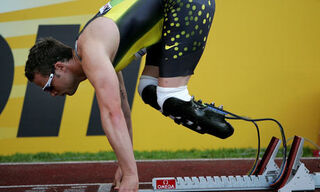 In Lignano, Italy on Tuesday, South African sprinter
Oscar Pistorius
ran a personal best in the 400m, clocking in at 45.07 seconds and qualifying him for the
2012 Summer Olympics in London
. Previously, he was the 4th best runner on South Africa's roster of 400m sprinters, but this particular time would have earned him 5th place at the
2008 Olympics
and 4th place at the 2009 World Championships in Berlin, so it seems he is peaking when it counts. Pistorius, whose legs were amputated as an infant, is looking to become the first runner to compete in both the Olympic and Paralympic Games. However, his road to the Olympics hasn't come easy.
While struggling against the International Association of Athletics Federations for his right to compete against able-bodied runners, many critics suggested that his carbon fiber artificial legs might in fact be giving him an an advantage. "The Fastest Man on No Legs" has long been the world record holder in Paralympic competitions for the 100m, 200m, and 400 m, but it wasn't until 2008 that the Swiss-based Court of Arbitration for Sport ruled that he would be eligible to compete in non-Paralympic events, including the Olympics.
On August 27th, he will be the first amputee sprinter to compete at the World Championships in South Korea. Then, if all goes to plan, he will do the same at Olympics, on his quest to become the world's fastest man.
Ad blocker interference detected!
Wikia is a free-to-use site that makes money from advertising. We have a modified experience for viewers using ad blockers

Wikia is not accessible if you've made further modifications. Remove the custom ad blocker rule(s) and the page will load as expected.