Comment

1
Team Deutschland Raises the Bar
Ad blocker interference detected!
Wikia is a free-to-use site that makes money from advertising. We have a modified experience for viewers using ad blockers

Wikia is not accessible if you've made further modifications. Remove the custom ad blocker rule(s) and the page will load as expected.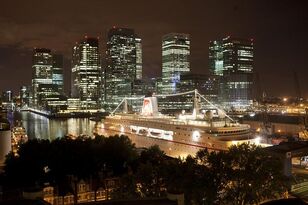 The
German Olympic Sports Confederation
commenced their preparations for the
London 2012 Olympics
in spectacular fashion yesterday, sailing the massive
MS Deutschland
snugly into the London Docklands, making it the largest boat to ever visit. The luxury cruise ship is making a test-run for next summer, when it will provide nearby accomodations to the Docklands Museum, which will become the official headquarters of
Team Germany
. Although German athletes will stay in the
Athletes' Village
, the VIPs, dignitaries, officials, and wealthy supporters of the team will stay on the boat made famous in the television show
Das Traumschiff
, Germany's version of
Love Boat
.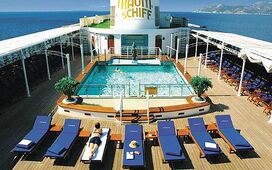 The art-deco style ship holds 581 passengers with an equal number of staff members. It features a swimming pool, grand ballroom, steam baths, and a driving range, so it's no surprise that three nights during the Olympics will cost £4,366 (approximately $7,000) per person. However, if you're German and you can afford it, I'd recommend booking a room now! What could be better than watching Dirk Nowitzki dominate in the Basketball Arena before retiring to the ship in the heart of London for a game of shuffleboard? Nichts.
Speaking of Basketball, if you want a chance at winning 4 free tickets to see hoops at London 2012, click here!