On Monday night, a futuristic countdown clock was unveiled in London's Trafalgar Square, accompanied by fireworks and the usual pomp and circumstance.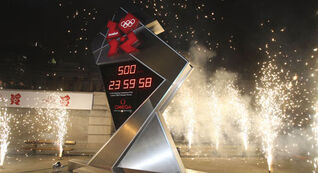 As "the official time keepers of the Olympics" do every couple of years, Omega devised the clock to provide the busy square with a countdown to the commencement of the 2012 Summer Games. By Tuesday, the clock failed its only mission. On the very day that Olympics tickets went on sale, the countdown ceased for several hours, stalling at 500 days, 7 hours, 6 minutes, and 56 seconds.
I expect better from the Swiss, but mistakes happen. We can forgive them. It's just a silly clock.
But wait, the story gets better. The countdown clock was not the only London Olympics-related event on Monday night, as the first episode of BBC Four's new television program
Twenty Twelve,
also premiered.
Twenty Twelve
is a mockumentary about people who work for the "Olympic Deliverance Commission" (presumably based on the real-life London Organising Committe of the Olympic Games), who are tasked with putting on the games without a hitch.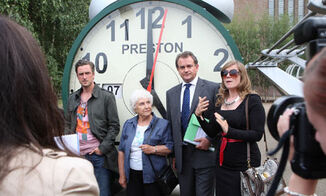 As mockumentaries go, such as
The Office
, the protagonists are bumbling fools who are in over their heads. In the first episode, they work to install a giant countdown clock, designed by a famous arist, in front of the Tate Modern. Sound familiar? I bet you can't guess what happens next. Their clock has an intrinsical design flaw and stops working, thus stirring up a PR mess for the main characters. Yes, this episode aired the night before the exact same thing happened in real life. What are the odds?!
Ad blocker interference detected!
Wikia is a free-to-use site that makes money from advertising. We have a modified experience for viewers using ad blockers

Wikia is not accessible if you've made further modifications. Remove the custom ad blocker rule(s) and the page will load as expected.