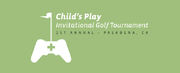 Hola fellow sports fans. Wikia is currently sponsoring a giveaway for the charity Child's Play. You may be asking yourself, what does a gaming charity have to do with sports? Good question. But Child's Play is putting on their first ever golf tournament.
So if you dream of being the next Tiger Woods, Michelle Wie, Fred Couples, or any other golfer this may be the giveaway for you. Perhaps you just want to put on some wacky clothes and go golfing? That's perfectly alright also. Or maybe you just want to play some golf with some gamers and help out this charity.
If curious please check out: the giveway here!