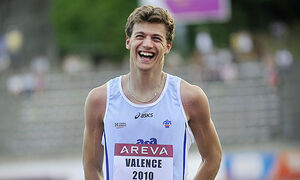 Christopher Lemaitre, a European sprint, has decided that he is going to focus on the 200m event in the upcoming London 2012 games. He was quoted by BBC Sport as saying "I think it's more reasonable to run one distance. For the Olympics, my aim is to try and win the gold in the 200m."
Lemaitre is currently in Rome for a showdown against star sprinter Usain Bolt. Bolt was quoted as saying the following about Lemaitre, "I think in years to come he could be up there in the top three or four sprinters in the world."
Lemaitre then went on to say that for the rest of 2011 he will be focused on trying to reach the finals in both the 100m and 200m events when the world championship comes around in September.
Source
Ad blocker interference detected!
Wikia is a free-to-use site that makes money from advertising. We have a modified experience for viewers using ad blockers

Wikia is not accessible if you've made further modifications. Remove the custom ad blocker rule(s) and the page will load as expected.