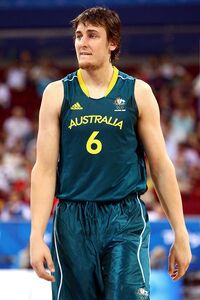 With the NBA currently in a lock out, many people are beginning to question how this will affect the London 2012 games. Many of the NBA's foreign players are now faced with unexpected high insurance costs. Many of the international federations are looking to find a way that would allow them to get around paying this high insurance cost. However, if they can't find a way around this issue then many of the game's top athletes may be forced to sit out of the upcoming FIBA games this summer.
Several big names have already been left off their team's upcoming national teams. Andrew Bogut will not be playing for Australia. Spain has announced that it would cost them up to $5,670,000 to insure the contracts of players including Pau Gasol and Marc Gasol, Rudy Fernandez, Jose Calderon, and Ricky Rubio.
Normally, the NBA works alongside FIBA to help insure that the costs of insuring these players stays low. However, in this situation it seems that FIBA has been left on the deep end. Agent David Bauman was quoted by ESPN by saying ""There is no good reason why FIBA was left to fend on its own," "In this case the NBA is punishing all the countries they are using to build their worldwide influence and their global brand by making it so that these players are not able to partake in Olympic qualifying tournaments."
The United States is the only team who has currently qualified because they received a bid automatically for winning the gold medal at the 2008 Olympics. Britain also received a bid for being the host nation.
This situation puts players in a bind with the upcoming Eurobasket tournament. If a solution isn't reached, many players might have to sit out which would jeoparadize their nations' chance of making the Olympics. Alternatively - the players could choose to play, but at the risk of jeopardizing their future earnings.
Either way the situation is not good. Let's hope that an agreement can be worked out so that we will get to see the best players and teams at the London Games.
Source