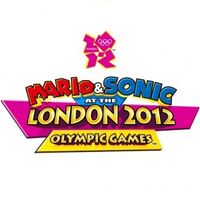 Can an overweight plumber and blue hedgehog win Olympic medals? If you are talking about Mario and Sonic, then of course they can. And they have already proved it in Mario and Sonic at the Olympic Games and Mario and Sonic at the Winter Olympic Games. It's no surprise that the duo would once again come back for the London 2012 games.
Mario & Sonic at the London 2012 Olympic Games has made some changes to it's gameplay. First of all there are two versions - Olympic and Dream Versions. The Olympic versions try their best to mimic the actual gameplay and event. The dream version on the other hand is infinitely more interesting. In the dream version, the Olympic event is combined with a level from a Mario or Sonic game.
Another new addition to the game is the London Party Mode. Similar to the gameplay of Mario Party, up to four players stroll around a giant map of London. Big Ben will chime which will throw players into an Olympic event, where the winner receives stickers. The first player to get 48 stickers will win the game.
What do you think of the new changes to this series? Is this game something you would consider picking up? Personally, I like the addition of the London Party Mode, so it's definitely something I'd be interested in.