Ad blocker interference detected!
Wikia is a free-to-use site that makes money from advertising. We have a modified experience for viewers using ad blockers

Wikia is not accessible if you've made further modifications. Remove the custom ad blocker rule(s) and the page will load as expected.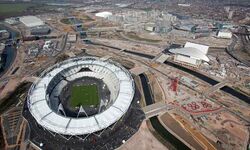 Londoners get out your conductor's hat and place it next to to your Olympic flags and clothing. Special rail tickets for the
London 2012
games have already gone on sale - not only that, they have a special dedicated website just for this service- [www.www.nationalrailgamestravel.co.uk here]. The tickets are designed to be flexible throughout the games in case an event runs long or is unexpectedly rescheduled. Ticketed spectators will also receive a special travel card that will allow them to travel throughout the
venues
. On top of that, the stations have dedicated themselves to staying open later to help serve the additional traffic. Theresa Villers, the rail manager, was quoted as saying
"For millions of people London 2012 will be the event of their year and our rail network will be on the frontline, carrying the public to where they need to be at the right time. "I'm pleased the industry has come together to offer some great value fares with added flexibility and the ability to book a full year in advance. This will help spectators to make the very most of their trip to the Games." So if you are a Londoner or just someone who will be experiencing the London 2012 games, be sure to get your rail tickets as soon as possible.
What do you think about these changes to the rail system/the availability to get tickets? Do you think these is a good maneuveur?
Don't forget to check out the Olympics Ticket Giveaway for a chance to see the basketball preliminaries.
Source