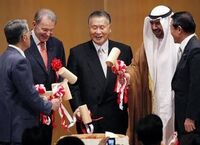 After the horrible destruction that was caused by the tsunami and earthquakes of March 11, Tokyo is attempting to recover from this accident. Perhaps, in many ways, they were boosted by the inspired playing of the Japanese Women's National Team who defeated the United States in penalty kicks over the weekend to win the Women's World Cup. But now, Japan is looking to take it one step further.
Japan has confirmed that they are making a bid for the 2020 Olympic Games to take place in the capital city of Tokyo. The Olympic Committee President Tsunekazu Takeda said, "Today, Japan is recovering from the tsunami and earthquake and we want to have the 2020 Olympics as a symbol of the recovery."
Tokyo was defeated by Rio de Janiero as hosts for the 2016 Games. They weren't discouraged by the awarding of the 2018 Olympic Games to Pyeongchang, unlike France. So far other bidders for the 2020 Games include Rome and Madrid. Istanbul is also expected to throw their name into the competition very soon.
The belief is that many of these earthquake damaged areas could host events such as soccer. Japan has experience hosting the Olympic Games as they were the host of the Olympic Games in 1984 and 1998.
Japan will have to wait until the official decision is announced in 2013 to find out if they will win the bid. Do you think that Japan is desiring of having another Olympic bid?
Source
Ad blocker interference detected!
Wikia is a free-to-use site that makes money from advertising. We have a modified experience for viewers using ad blockers

Wikia is not accessible if you've made further modifications. Remove the custom ad blocker rule(s) and the page will load as expected.