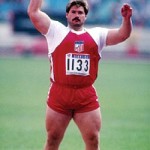 Former United States Olympian Gregg Tafralis is a man who has always been faced with difficulities and struggles. Tafralis is perhaps best known for his controversies in the sport of track and field. He participated as a member of the 1988 Olympics track and field team. He sadly placed a disappointing ninth place in the event of Shotput.
However, a bigger tragedy occured to Tafralis on September 9, 2010 in San Bruno. Shortly after settling down for a nice relaxing evening of Thursday Night Football, a gas line 400 feet away from Tafralis' house exploded. Tafralis was the only member of his family home at the time - fortunately. However, his escape was extremely difficult. At first he described his emotions as "I pretty much thought I was going to die. I kind of wanted to at that point. You really don't want to go through that pain. Just die." Eventually he was able to get out of the house by bursting through a burning door. In the process, he managed to tear his knee and fracture his hip.
Recovery needed to happen and it happened big in the case of Tafralis. Tafralis received the proper surgeries that he needed and he eventually began to work out again. As his son Adam said, "This is a great opportunity for him to flourish and regain the confidence he was known for." Tafralis finally has a renewed sense of himself and his priorities after the tragedy. He is now working hard to revive his physical training business. He is also working together with the other families who suffered from this tragedy on a civil lawsuit against the company responsible for the gas explosion. Tafralis admits that he had his troubles in sports, but he hopes that he can serve as a lesson of what not to do. Cheating and using things like steroids is never the way to go.
It's nice to see that a former troubled athlete seems to be re-evaluting his priorities and trying to do the right thing now. What do you think about the story of Tafralis?
Source